Robin Soderling's HEAD MicroGEL Radical MP
2009 BNP Paribas Open
I took this photo at the Indian Wells Tennis Garden, just before the start of the BNP Paribas Open there. Soderling's racquet has a couple of interesting features. First, here are the measurements:
| Racquet | Mass | Bal. cm | Swgwt | Length |
| --- | --- | --- | --- | --- |
| Soderling's | 357 | 33.75 | 384 | 27 |
| USRSA | 309 | 33.50 | 308 | 27 |
| Tennis Warehouse | 312 | 33.66 | 315 | 27 |
The mass is high for a recreational player, but not for a pro. However, check out that swingweight. Yikes! Someone has done a beautiful job of hiding the lead tape underneath the CAP bumperguard, as there is no lead tape visible anywhere, except through the narrow split in the bumperguard at the top of the frame.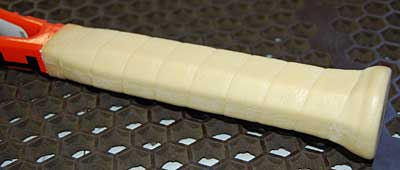 Also, check out this custom pallet. His stringer told me that Nate Ferguson of Priority One molded this custom pallet for Robin, complete with butt cap flare and spiral grooves where the skiving would overlap in a leather grip. Apparently, Robin places a Tournagrip over this and is good to go. (The measurements above are without the Tournagrip, so you would add 4-5 grams to account for the Tournagrip to get the total mass of the racquet as played, and the balance would be slightly lower.)
Something you can't see in this photo is that the grip is not symmetrical. Because Robin always holds his racquet with the same edge up, the base of the pallet in the flared area has a tiny bit more room for the tip of his little finger than does the other side of the pallet.