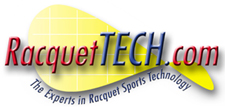 NEWS RELEASE
FOR IMMEDIATE RELEASE
CONTACT: Greg's Racquet Service
LOCAL RACQUET SERVICE PROFESSIONAL
RECEIVES MASTER LEVEL NATIONAL CERTIFICATION
Greg Raven of Greg's Racquet Service has passed the examination and satisfied the experience requirements to be named a Master Racquet Technician (MRT) by the United States Racquet Stringers Association (USRSA) in Vista, California. The MRT designation is the highest Certification a racquet sports retailer can receive.
To be eligible for the Master Racquet Technician designation, Greg had to pass an exhaustive exam that tests knowledge of all facets of racquet service. "The exam measures understanding of how to install string, how to select the optimum racquet for every player and how to re-size handles, regrip racquets and customize weight and balance," says David Bone, USRSA executive director. "An MRT must also demonstrate advanced knowledge of current frame and string technology and how that technology translates into player satisfaction."
"The MRT offers consumers the best assurance of superior racquet service," Bone says. "And this certification provides a competitive advantage for a retailer who wants to attract knowledgeable, quality-conscious consumers. In other words, the MRT benefits both the professionals who earn the desigation and those they serve."
The United States Racquet Stringers Association is a professional organization of 7,000 racquet service technicians. Based in Vista, California, the organization is celebrating its 26th anniversary this year.